Press on "Shoulder Source" and "Celestial Rejuvenation"
Press on "Shoulder Source" and "Celestial Rejuvenation"
Effect: Loosens a tense muscle effectively, invigorates.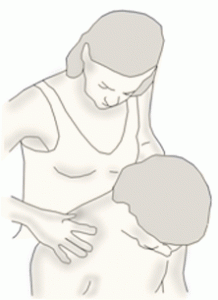 Location:
3 cm to the side of the back of the neck on the shoulder muscles, the two points are close together. Apart from the nice sounding names, they are simply called G21 and TW15
(For position and effects see menu "Points / points to track")
Treatment:
Feel the often tense points and slowly massage, press or knead. Duration: about 1 minute
Partner:
The partner breathes deeply and relaxed into the area.
If necessary, he gives feedback on what he likes best.
Trace:
Give the partner a little time to trace the pleasant effects.